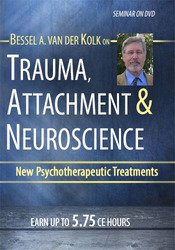 Digital Recordings
Trauma, Attachment & Neuroscience with Bessel van der Kolk, M.D.: Brain, Mind & Body in the Healing of Trauma
---
---
Details
Product Details
Level:

Speakers:

Duration:

5 Hours 39 Minutes

Media Type:

Digital Recordings
Objectives
Communicate recent developments in neuroscience in relation to assessment and the treatment of PTSD.
Appraisethe efficacy of trauma treatment techniques, including physical mastery, affect regulation, attention and memory processing in trauma.
Critique the results of Developmental Trauma Disorder field trials and ascertain how this may inform clinical treatment considerations.
Articulate specific techniques clients can engage in to regulate their own physiological functioning in response to trauma.
Explain how traumatized people clients process information and articulate the impact of this on clinical assessment and treatment planning.
Determine how to integrate neurologically-based, body-oriented trauma treatment therapies into clinical practice.
Outline
Neuroscience & Brain Development
Neuroscience research and the course of brain development
How children learn to regulate their arousal systems
Fundamental capacity of the brain to self-regulate
Trauma, abuse and neglect: The derailment of developmental processes & brain development
Traumatic Imprints
Storing of traumatic imprints in the sub-cortical brain areas
Somatic re-experiencing of trauma-related sensations and affects
Understand why and how trauma symptoms make sense (adaptations, memory equivalents, etc.)
Understand why and how traumatic imprints perpetuate maladaptive coping behaviors
The Latest Clinical Research on Trauma-specific Treatment Interventions
Neurologically-based, body-oriented therapies to resolve traumatic material
EMDR
Movement Therapies
Neurofeedback
Integrating various approaches during different stages of treatment
The DSM-5® diagnoses and need to incorporate data from DESNOS/Complex PTSD and Developmental Trauma Disorder field trials

Behavioral and neurobiological implications of developmental trauma (child abuse/neglect)
Behavioral and neurobiological implications of complex trauma
Recognize and address the myriad of co-morbidities in the traumatized client